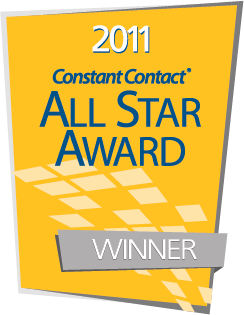 Constant Contact's 2011 All Stars
Husker Synthetics recognized for achieving exemplary marketing results
Ceresco, NE, March 15, 2012
, Independent AMSOIL Dealer Michael Lloyd has received the
2011 All Star Award
from
Constant Contact®, Inc.
,
the trusted marketing advisor to more than half a million small organizations worldwide. Each year, a select group of Constant Contact customers are honored with the All Star Award for their exemplary marketing results. Husker Synthetic's results ranked among the top 10% of Constant Contact's customer base.
AMSOIL FORMULATES A WIDE SELECTION OF SYNTHETIC LUBRICATING OILS for all types of engine and gear applications, including those for specialized vehicles and severe operating conditions. In addition, AMSOIL has developed sophisticated fuel additives, filtration systems and other companion products that supplement and extend lubricant performance. All are distributed through a worldwide network of independent Dealers. This complete line of quality products is recognized by countless private motorists, fleet managers and industrial administrators as the best and most cost-effective choice for increasing engine performance, reducing maintenance and prolonging vehicle and equipment life. ...making history with synthetics.
"We're happy to be recognized by Constant Contact for achieving strong marketing results. Constant Contact's tools have helped us in the following specific ways to better manage customer/ constituent relationships and engagement. Consider explaining why customer/ constituent engagement is important to you, and how you are planning to leverage Constant Contact to develop these relationships in the year ahead."
Constant Contact customers using any combination of the company's Email Marketing, Event Marketing, and Online Survey tools are eligible for this award. Constant Contact looked at the following criteria to select this year's All Stars:
·
Frequency of campaigns, events, and surveys
·
Open, bounce, and click-through rates
·
Event registration rates
·
Survey completion rates
·
Use of mailing list sign-up tools
"There is nothing we like more than to see our customers finding success. It's the reason Constant Contact was founded, and it's a thrill to see the fantastic results that our All Stars are achieving," said Gail Goodman, CEO of Constant Contact. "This group is really leading the charge when it comes to delivering relevant, engaging content that drives real business results. We salute this year's All Stars for their success, and are honored to have played a part in their achievements."
We have been an AMSOIL and Aggrand Dealer since 2005, and achieved Direct Jobber Status in 2009. I work as a Federal Firefighter at an installation in Nebraska. "Firefighter by Profession; Husband by Choice; Father by the Grace of God." I am a part of one of the fastest growing groups in AMSOIL. We are a family with 4 outstanding children, living the good life. The additional income from our AMSOIL Dealership has allowed us to pursue other passions and activities. Our children are involved in 4H, sports, and several school activities. We ride horses whenever we can.
About Constant Contact, Inc.
ConstantContact
is revolutionizing the success formula for small organizations through affordable, easy-to-use Engagement MarketingTM tools that help create and grow customer relationships. More than half a million small businesses, nonprofits, and associations worldwide rely on Constant Contact to drive ongoing customer dialogs through email marketing, social media marketing, event marketing, and online surveys. All Constant Contact products come with unrivaled KnowHow, education, and free coaching with a personal touch, including award-winning customer support.
Constant Contact and the Constant Contact Logo are registered trademarks of Constant Contact, Inc. All Constant Contact product names and other brand names mentioned herein are trademarks or registered trademarks of Constant Contact, Inc. All other company and product names may be trademarks or service marks of their respective owners.
Media Contact:
Michael Lloyd
Independent AMSOIL Dealer
amsoildealermike@gmail.com
402-499-4301

AMSOIL products are sold through independent Dealers. People like you. People who want extra money, something to do in their spare time, even a full-time business.You can start an independent AMSOIL Dealership for under $50 and put as much -- or as little -- time into it as you want. The outstanding products offered by AMSOIL comprise a rock-solid base upon which to build your business.
·Minimal start-up fee
·No inventory requirements
·No territory restrictions
·No capital investment
·No employee expenses or requirements
The current trend in the United States is small business. Owning your own business guarantees you the freedom to work on your own terms and the opportunity to set your own goals. AMSOIL offers all the advantages of a franchise without the large initial investment. There are many advantages to the AMSOIL opportunity that you simply won't find in other business opportunities.
You can start today by following this

link to sign-up now

.

Once you are signed up, I will contact you to help you get started.
Call Mike, Your AMSOIL Dealer 402-499-4301 for the best prices or more information.
If you want to call AMSOIL Directly at 800-777-8491 and give them referrel number 1338845.